Introduction
To improve industrial energy efficiency will become one of the cornerstones of the global economic landscape in the coming decades. In fact, an organisation's environmental commitment is, nowadays, more and more important, both in the minds of consumers and in CSR manuals. In this respect, the industrial sector will play a leading role, as it is one of the major consumers of material and energy resources.
So much so that, on 23 June 2021, Red Eléctrica de España (in its report on the Spanish Electricity System 2020) highlights an 6.6% decrease in energy demand in the industrial sector. Meanwhile, Spain's demand suffered a 5.5% drop, which meant that the GWh demanded fell to 249,991 due to the pandemic.
Another factor that shows the weight of industry in the overall consumption is the IRE's evolution. This measurement indicates the variation in the electricity expenditure of organisations with medium and high consumption rates and, during 2020, it experienced significant decreases. Consequently, this provoked a 7,3% drop of the total IRE in comparison with 2019 (the sharpest drop since the IRE was first measured) and the index was 2.5% lower than the minimum reached in 2013 (115.3). Meanwhile, the industrial sector showed a 6.6% decline in consumption, implying a significant acceleration of its downward trend over the last two years.
During the fourth quarter of 2021, a moderating trend in year-on-year growth rates has started. Industrial activity has played a very important role on this process, as it has suffered a net decline compared to 2020. This has occurred because, although intermediate goods have continued to report positive rates thanks to the demand from metallurgical industries, this has not compensated a general negative trend led by the automotive industry.
Finally, in April 2022 the situation is as follows.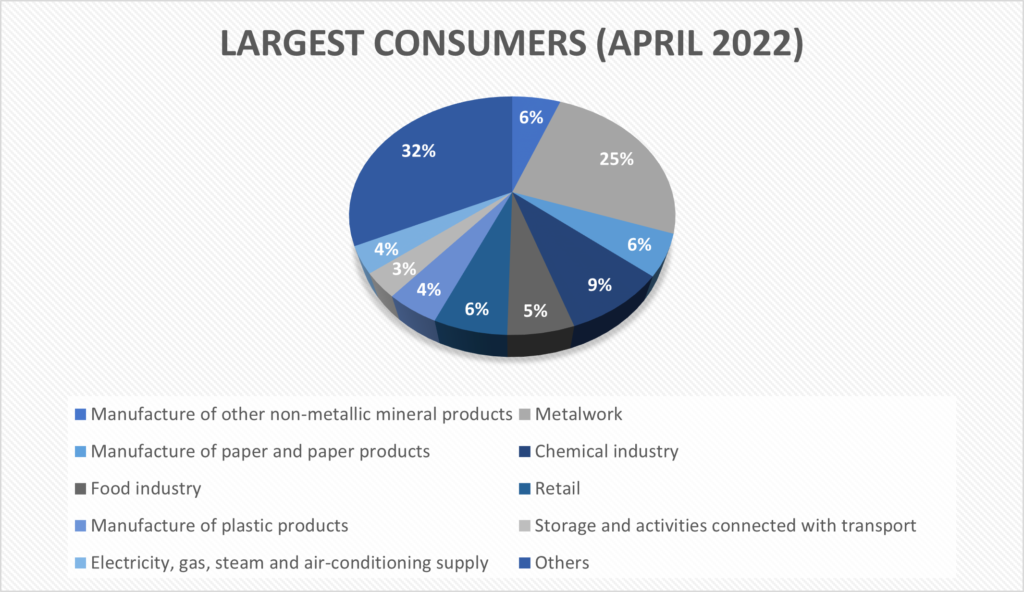 These data, therefore, depict a panorama in which technological revolution becomes an urgency, given the importance of adopting more efficient processes to favour the competitiveness of companies and to improve industrial energy efficiency.
A tool such as Gradhoc can be a powerful ally to achieve this goal. This product allows you to know how is your installation functioning in real time (status, energy sources, activity, needs, etc.) and, thanks to this, you will be able to optimise each piece of equipment's energy consumption. This, in turn, has significant implications when trying to reduce your business' impact on the environment.
What kind of energy?
However, we are not just talking about a purely technological need, but also about taking advantage of the diverse energy sources available to us.
In this respect, renewable energies are of paramount importance, as can be easily perceived from the fact that the IEA predict that, from 2022 to 2024, the renewables will grow to the point of crowding out fossil fuels (which will decline almost 10%)  and compensating for diminishing nuclear generation in 2022 and 2023 (-4% over the whole period).
According to Eurostat, 58.6 % of the net electricity generated in the European Union in 2020 was obtained from non-combustible primary sources, 41.3 % was sourced from combustible fuels, and 24.3 % came from nuclear power stations. Among the renewable energy sources, the ones that produced the most net electricity were wind turbines (14.7 %), hydropower plants (13.8 %) and solar power (5.3 %).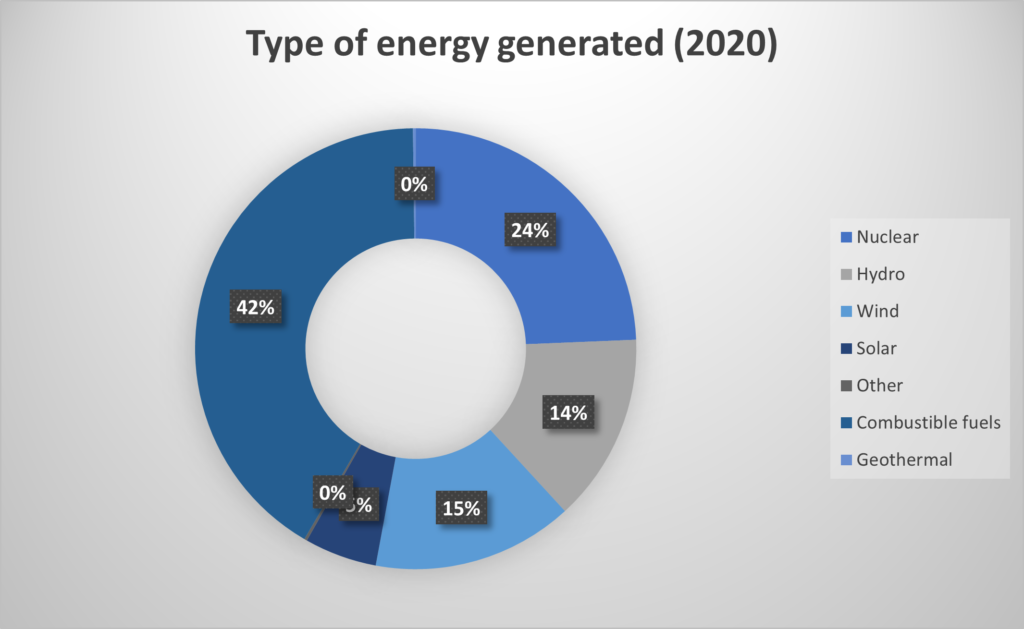 Gradhoc, in this sense, offers the advantage of enabling the monitoring of all energy variables, thus optimising your production by controlling temperatures, production capacity and, obviously, energy consumption.
Why should energy consumption be reduced?
Nonetheless, the only 100% environmentally friendly energy is the one that is not consumed. Also, the price of industrial electricity tariffs varies significantly depending on a large number of factors, such as season, climate, etc.; consequently, the main reason to reduce consumption is to improve industrial energy efficiency while executing production processes, thus ensuring a cutting down in costs and, consequently, contributing to an increase in competitiveness, as well as to a reduction in CO2 emissions.The industrial sector is a strategic one in this sense, as it has a high potential for decreasing final energy consumption and pollutant emissions.
Another reason, equally important, is to comply with the objectives set by the European Union and Spain.
How to improve energy efficiency in industry?
Renovation of equipment and processes by using the latest and most efficient technologies. Actions such as purchasing energy efficient equipment, replacing/modernising existing infrastructures or using software in order to monitor your installation in real time, as well as to have access to data records.
Operational changes and process streamlining. Actions directed to manage the demand, so that processes are optimised.
Insulation improvements (eliminating/reducing heat loss). If the different components of the industry and the production processes are not properly insulated there is a constant loss of energy.
Optimisation and improvement of installations: placement of smart heating, air conditioning and lightning systems. Installing smart heating and air conditioning systems can save you between 10% and 40% with respect to the initial expenditure. We can also make use of the heat derived from the cooling units: the heat produced by the condenser and extracted by the cooling units can be utilized, by means of heat exchangers, for the production of the hot water required in other parts of the installation. This solution can lead both to energy savings in DHW sourcing and to a lower electricity consumption of the condenser. Thanks to the installation of intelligent lightning systems, we can also save between 20 and 85% with respect to the initial expenditure.
Preventive and predictive maintenance with alarms. The usage of simulations for the prediction of failures and incidents improves the operability of the production process, thus extending the life cycle of the equipment and improving stock management.
Energy use control from its generation to its utilisation. Usage of microgrids to generate energy and introduction of renewable energy sources, as they are sustainable and low cost. Adjustment of energy supply/demand in real time. Energy management of the equipment in order to adapt energy consumption to the needs of the production. Implementation of energy management systems in accordance with the ISO 50001 standard.
These are some of the possible measures that can answer to the question "how to improve energy efficiency in industry.
Ways to improve energy efficiency in industry
Finally, if you want to know how to improve energy efficiency in industry, here are some tips that may come in handy:
Smart offices with lighting and air conditioning adjustment.
Industrial working areas with high energy efficiency levels.
Improvement of industrial refrigeration processes.
Renewal of industrial equipment.
Change to a more efficient and environmentally sustainable energy vector.
Implementation of energy efficiency software and new technologies.
Ways to improve energy efficiency in industry using smart offices:
Switching on lights and air conditioning, plus raising of the blinds, minutes before your workforce's arrival.
Execution of the inverse process minutes after the end of the workday.
Ways to improve energy efficiency in industry by enhancing the industrial working area:
LED lighting systems that adapt to natural light conditions.
Energy-efficient devices.
Insulation of roofs and facade.
Ways to improve energy efficiency in industry by refining industrial processes:
Replacement of the existing installation by a more efficient refrigeration equipment that enable to make the most of low-demand hours by its supplementing it with an ice thermal storage.
Refrigeration by means of portable/external evaporative coolers for industrial air-conditioning.
Usage of a refrigeration plant that use natural refrigerants and a subcritical CO2 cascade refrigeration system.
Switching to mini refrigeration plants that follow eco-design principles.
Replacement of plants that use non-natural chemical refrigerants with one that work with ammonia (R717) in the primary circuit and glycol distribution in the secondary.
Adoption of a water exchange system between the two units in the installation of air-conditioning in the food industry.
Ways to improve energy efficiency in industry by renovating your equipment:
Replacement of the chiller by one that use ammonia (natural refrigerant R717).
Installation of a central refrigerating plant that allow a partial recovery of the heat produced.
Prioritisation of the utilization of ventilation with EC motor systems for industrial air-conditioning.
Improvement of the freezer room's thermal insulation.
Ways to improve energy efficiency in industry by changing the energy vector:
Choice of high efficiency LPG burners with variable flow in order to generate steam instead of fuel oil.
Substitution of the current combustion system by a propane gas burner in direct air vein.
Change to heat pumps for the generation of hot water and the DHW needed for the processes.
Ways to improve energy efficiency in industry by implementing software and new technologies:
Adoption of a real-time monitoring system and usage of data records.
Management of your facilities through customised dashboards and KPIs.
Production optimisation according to the characteristics of your equipment and energy variables. This also has effects over the environmental impact of your business.
Predictive maintenance.